Betty is a 1974 Airstream International Overlander 27ft travel trailer, purchased in 2000 by my late wife, Mary, and I. Mary lovingly documented Betty in a web page at Technicolorlife.com which I have updated and restored. Here are some other images of Betty, lovingly photographed by Mary.
Above: Betty & Barney, Betty with Hydrangeas, Betty in Winter.
In 2002 and 2003, I did some renovation work to Betty that included replacing the worn beige carpeting with Morocco Slate linoleum tile, and replacing the front gaucho (Airstream terminology for a couch that folds out into a bed) with a dinette built to period aesthetics. If you didn't know Airstreams, you might not realize that it isn't original. Before the Airstream purists out there have heart palpitations, rest assured I saved the gaucho and all the hardware that came out with it, and they will be passed along to the next owner someday, when it is time to sell Betty.




Top: Carpet Removed Front & Kitchenette, New Linoleum Tile Front & Kitchenette, Dinette in Progress.
Middle: Dinette with cushions in dining and sleeping configurations.
Below: JoJo helps.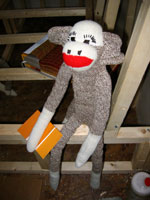 Betty remains a work in progress. I'll post new developments here.
---